Office Renovation Part 1
A few people were foolish enough to respond to my tweet about my office remodel so I thought perhaps I should start blogging about it. It's very much a work in progress, but I intend to update this as I go.
History
Our house was built in 1947. Apparently, folks in 1947 didn't think about home offices, standing desks, or video game playing. I'm not sure what they were up to in their free time…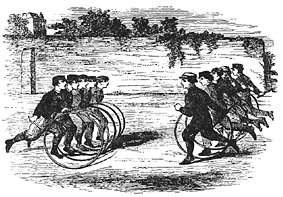 Since then, our office has likely been a bedroom for people of various ages based on the paint colors (orange, blue, white, dark grey) that I found. As an aside, none of these people appeared to be particularly good at painting clean edges. Or not getting splotches on the ceiling.
Now
I want a nice home office to play video games in occasionally work out of, and want to replace the random bits of furniture in the room. Because the room is small, a set of desks built into the wall seem to be the best option. Thankfully, there are a lot of great ideas on the web. After browsing a while, my wife and I decided that some built in desks with shelving would be perfect. Here's an example: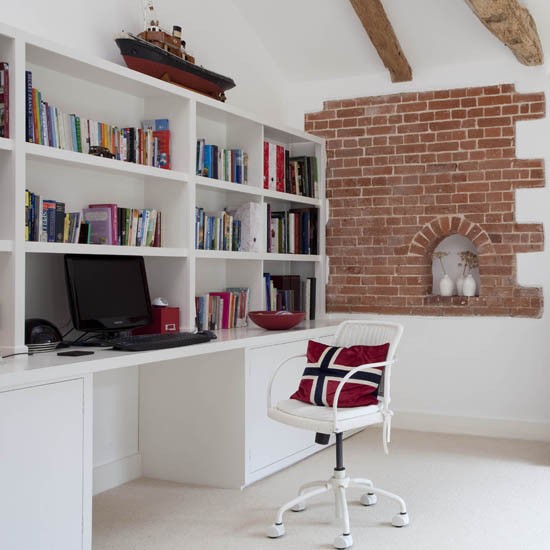 My plan is not to build this as one giant cabinet, but the idea of desks and storage space make a lot of sense.
Design
The first step was to draw up some designs on some trusty graph paper. As I'm sure you already realize, there is no replacement for drawing things to scale. In this case, every square was 2 inches. This was extremely helpful for figuring out what could even fit in the space.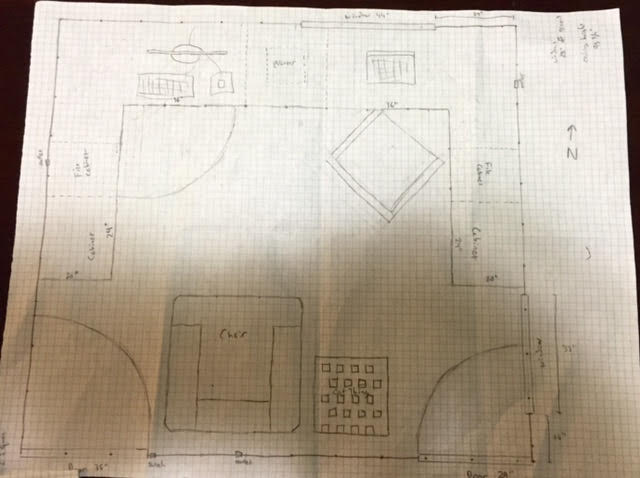 _Sorry for the poor image quality!_
My goal in the layout was to give us both traditional desk areas, give me space (over the laser printer) to have a standing desk, and leave enough room for a comfy chair next to an Ikea side table I hacked years ago to hold our cat's food.
I redrew these plans at least 3 or 4 times. I will likely modify them again before we're finished. Yay pencils and erasers!
The current design involves 24" deep desks along the main wall with 18-20" desk depth along the sides. This should give us space to spread out our stuff while still having room to move around.
Approach
I want my office to be usable as soon as possible so I don't want to wait for it to be totally finished before we move back in. As part of that, I intend to build it out in phases:
Strip out everything from the office Done
Prime the walls
Paint the walls
Build the cabinets supporting the desk
Add the desk
Add the tall wall cabinets
Add the extra shelving
I'm done with 1 and 2, and working on 4. 3 will start shortly.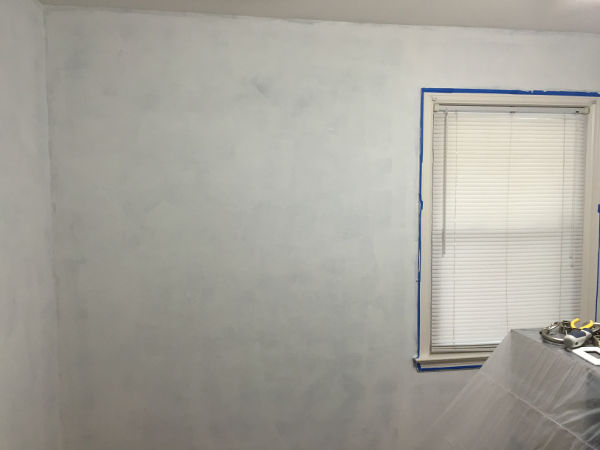 I'm planning on building frame-less (aka European) styles cabinets. I found a great writeup here that you should check out. I actually started making the first cabinet tonight, but I don't have any photos to share yet.
Stay tuned for more!